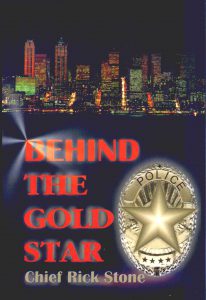 BEHIND THE GOLD STAR by Chief Rick Stone, a national "Officer of the Year" and Medal of Valor recipient, exposes seven days in the life of a Police Chief struggling against bureaucratic stupidity, personal conflicts and his department's collection of screw-ups, lunatics, and peculiar happenings.
A sensational novel filling 364 pages with surprising twists and turn and intense action; Behind the Gold Star will lead you through the maze of backroom political intrigue and to an unforgettable climatic grand finale that will make you want to stand up and cheer!

"Critics are howling…" Miami Herald
"One of the best books you will ever read..Relentlessly funny…Nothing short of brilliant…"
Foundation supporters may order a "Special First Edition" of BEHIND THE GOLD STAR that is personally autographed and inscribed by the author.
Chief Stone has assigned the royalty rights to the Foundation and the ENTIRE purchase price will be donated in your name to the Chief Rick Stone and Family Charitable Foundation for each copy that you purchase.
You will receive a receipt from the Foundation with each order certifying your charitable contribution for your tax filings.
The price of BEHIND THE GOLD STAR is only $20.00, which includes shipping.
Supplies are limited.
To order:
Send your order using the contact email form listed below and we will send you a Pay Pal invoice direct for you to utilize your credit card as payment.  If you wish, you may mail an order with your check or money order payment to our mailing address:
THE CHIEF RICK STONE AND FAMILY CHARITABLE FOUNDATION
BOX 61
GLEN ROSE, TEXAS  76043
Unsigned copies of this book are available at Barnes & Nobles, Amazon.com and other retail outlets.
[contact-form to="foundation@chiefrickstone.com, rdstone@ilcs.net" subject="Behind the Gold Star Order"][contact-field label="Your Name" type="name" required="1″ /][contact-field label="Your Email Address" type="email" required="1″ /][contact-field label="Indicate the Number of Copies You Wish Sent" type="text" required="1″ /][contact-field label="Your Shipping Address" type="textarea" required="1″ /][/contact-form]
Copyright (C) 2012-2023.  The Chief Rick Stone & Family Charitable Foundation. All Rights Reserved.