CHIEF OF POLICE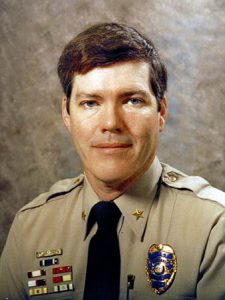 Rick Stone was appointed as the Chief of Police for the City of Wichita, Kansas after a nationwide search. His selection made Chief Stone the youngest major city police chief in the United States at age 37. He was immediately tasked with improving a department that was woefully behind the times in basic police techniques, equipment, and modern leadership principles. Upon his appointment, the Wichita Eagle newspaper editorial board reported that their city was "a town seeking strong leadership in law enforcement" and lauded Chief Stone as "a complete police professional…considered the top trouble shooter for the Dallas Police force."
Rick Stone served as the Chief of Police for over six years and completed a major reorganization and restructuring of the department to implement a philosophy of "Community Policing."  Chief Stone was instrumental in adopting Wichita's first field training program for recruits, creating a mounted unit, a "Citizens Police Academy", foot patrols, a bike unit, a K-9 unit, and "Special Community Action Teams."  He decentralized patrol operations into four new sub-stations and constructed a new firearms training center, taught advanced leadership training for supervisors and commanders, added sergeants to the department and obtained multiple upgrades in technology including a new 800 mhz radio system and acquisition of the Automated Fingerprint Identification System (AFIS) for the Wichita Police Department's Forensic Laboratory.  During Chief Stone's tenure, the Wichita Police Department also pioneered the use of DNA science to investigate and solve crimes.
Actor Brian Keith portrayed Wichita Police Chief Rick Stone in an episode of the TV series "The Marshall" titled "The Bounty Hunter."
The United States Department of Justice Marshal's Service selected Chief Stone as "Law Enforcement Officer of the Year".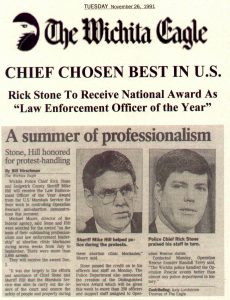 Chief Stone's leadership efforts culminated in the presentation of the prestigious "Webber Seavey Award" for creativity and innovation by the International Association of Chiefs of Police and contributed to Wichita's selection as an "All American City."
Copyright (C) 2012-2022 by the Chief Rick Stone & Family Charitable Foundation. All Rights Reserved