"NO HOME FOR HEROES" explores history's military mysteries regarding lost service men and women who were classified as "Missing In Action".  Each podcast features information from 
the actual investigative case files of the Chief Rick Stone and Family Charitable Foundation who is committed to providing information to the families of America's 
long forgotten MIA's.  
A lot of what you hear will surprise you.  Some of what you hear will make you sad.  And much of what you hear will make you angry.  But all of what you hear will make you proud of our American heroes.
Recently, one of our NO HOME FOR HEROES podcast listeners sent us this email, an excerpt of which is re-printed here with his permission:
Chief Stone,

The family of Carl Spencer Johnson would like to thank you for featuring his story on your podcast "No Home for Heroes" on you latest episode (Episode 50), "All Things Come to Those Who Wait". 

As you know, last Friday we had a beautiful graveside ceremony, where Uncle Carl was given full military honors.  The Navy, Admiral Nowakowski,  the Patriot Riders, a detail from Luke AFB, and my brother Carl Robert Dahl, who was also in the Navy as a physician at the end of the Vietnam War,  made it a day to remember!

All of my siblings were in attendance, and nearly one hundred family members were there. 

Thank you and the Chief Rick Stone and Family Foundation for your part in making this all possible.  It has been such a blessing to our family.  I am so grateful that my niece, Gretchen Allen, contacted you in 2016 and that we went from a series of " … and nothing happened…" to a wonderful day of tribute to a brave young sailor who was part of saving the lives of hundreds of his fellow crewmen, as he did his duty in flooding the powder magazines deep in the battleship West Virginia. 

This fulfilled my Grandparent's dream of having their son return home.  Carl is buried by his parents (my grandparents) Zeno and Margaret Johnson, my parents, his sister Katherine and Richard Dahl, and also his sister Anita and his cousin David.  It is in a old part of the Greenwood Lawn Cemetery in Phoenix.  We thought it would be difficult to find a plot, when we found there was one waiting for him all this time!

A boyhood friend of Carl's, Ronnie Luplow, age 97 (same age Carl would be) was watching his usual news channel on Christmas Eve when for some reason he changed the channel and saw a news story about Carl coming home.  His daughter commented on the news channel's website, my niece saw it and managed to contact her.  Ronnie was able to be at the ceremony!  Ronnie served in WWll as a landing craft pilot on Iwo Jima and Guadalcanal.  He was finally able to say goodbye to his friend he had grown up with. 

Again, Thank you for making this possible!

Daniel Dahl, M.D.

 
(Dr. Dahl is the nephew of Seaman 1st Class Carl Johnson, a hero who lost his life on board the USS West Virginia at Pearl Harbor on December 7, 1941)
These FREE episodes are NOW AVAILABLE for you to listen.  The episodes 
are AUDIO ONLY and do not contain video images or any advertisements.
Just CLICK on the title of the episode you wish to listen to and it will begin to play automatically (you may need to adjust the sound level of your device).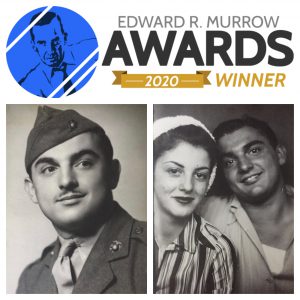 NEXT NEW EPISODE SCHEDULED RELEASE DATE: 
 2023
Your podcast host is Chief Rick Stone
"We hope you have enjoyed listening to our podcasts.  Don't forget to check out each one of our exciting episodes with a different story about a missing American hero."
"As always, we greatly appreciate your comments about our Foundation's efforts and encourage you to contact us." 
Email your comments about our podcasts to: Chief Rick Stone
SUBSCRIBE FOR FREE!!  ACT NOW!!


SUBSCRIBE FOR

FREE

TO LISTEN TO OUR PODCASTS ON THE FOLLOWING AVAILABLE SERVICES OR WHEREVER YOU PREFER TO DOWNLOAD YOUR PODCASTS:
NORMALLY, WHEN YOU SUBSCRIBE YOU WILL AUTOMATICALLY RECEIVE A NOTICE ON YOUR PERSONAL DEVICE WHEN THE NEWEST EPISODE OF

"NO HOME FOR HEROES"

 IS RELEASED… WITHOUT HAVING TO CHECK BACK ON OUR WEBSITE.
"NO ADVERTISEMENTS…NO COMMERCIALS…NO SPONSORS…IT'S CONVENIENT, EASY, AND FREE!"
"NO HOME FOR HEROES" is a trademark of the Chief Rick Stone and Family Charitable Foundation.  The podcasts contain no advertising and neither the Foundation, hosts or guests receive any compensation for their creation or participation in the podcasts.  Podcast episodes of "NO HOME FOR HEROES" are produced from the actual copyrighted investigative files of the Chief Rick Stone and Family Charitable Foundation for the private use of our audience and intended to provide information to the families of missing American service men and women.  Any other use of these podcasts without the express written permission of the Chief Rick Stone and Family Charitable Foundation is strictly prohibited.
Copyright 2012 – 2023, All Rights Reserved, The Chief Rick Stone and Family Charitable Foundation.