DIVISION COMMANDER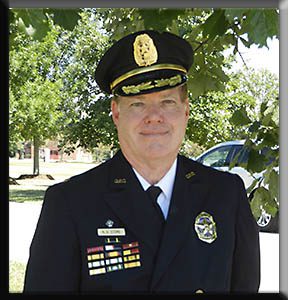 A native Texan, Rick Stone graduated from the University of Texas at Arlington where he was an "All Conference" track athlete. He joined the Dallas Police Department in July 1973 and served as a Police Officer, Field Training Officer, Sergeant, Lieutenant, Captain, Division Commander and the Director of Training at the Dallas Police Academy. His assignments included Patrol, Community Services, Detention Services, Reports, Planning and Research, Training and Education, and the Office of the Chief of Police. As a Lieutenant, he organized, trained and led the elite "Presidential Hotel Response Teams" during the Republican National Convention. Appointed by the Chief of Police as a Division Commander, Rick Stone directed the Planning and Research Division, the Report Division, and the Training and Education Division.
Rick Stone was reported by the Dallas Morning News in 2003 to be the most highly decorated officer in city history.  Officer Stone's awards include the Police Medal of Valor, Police Commendation Award, Police Commendation Award with Star, Life Saving Award, Certificate of Merit, Distinguished Service Award and multiple lesser medals, unit awards and over a hundred citizen and supervisor commendations.  In addition, Rick Stone was a Parade Magazine/International Association Chiefs of Police "Officer of the Year" nominee and he was twice nominated as the Dallas Police Department's "Officer of the Year".
Peers and subordinates alike recognized his creative policing skills during his rise through the ranks. Chief Stone gained a national reputation for strong leadership, honesty, integrity and innovation.  Rick Stone's final major appointment in Dallas was to join the Police Chief's Office Staff as the "Implementation Coordinator" of over 150 major organizational changes and improvements within the Dallas Police Department.  One of only nine national finalists for the Dallas Police Chief's position in 1988, Rick Stone was again on the list of final candidates for the Chief of Police position in 2010. 
Rick Stone's contributions to the history of the Dallas Police Department were chosen to be included in a series of large bronze pictorial plaques, created by New York artist Greg Lefevre, that were installed at the entrance to the newly constructed Dallas Police Headquarters Building just south of downtown.
Copyright (C) 2012-2022 Chief Rick Stone & Family Charitable Foundation. All Rights Reserved.