Division Commander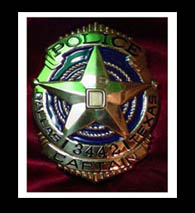 At the time of Rick Stone's service, the City of Dallas was a large metropolitan city of over one million residents, which was ranked as the 7th largest city in the United States. Located in North Central Texas, Dallas ranked third in land area among the ten most populated cities in America with approximately 380 square miles. Home to many major industrial and commercial giants, Dallas was recognized as an "All-American City" and considered a progressive and innovative city of the 21st century.
Dallas had a Council/Manager form of government in which the City Manager reported directly to the City Council. The City Manager was responsible for appointing all department heads and was aided in administration by several Assistant City Managers.
At the time of Rick Stone's tenure, the Dallas Police Department was one of the largest police departments in the United States with an authorized strength of 2305 sworn officers and 566 civilian personnel. The total number of personnel authorized was 2871.
The department answered approximately 800,000 calls for service each year and made over 94,000 arrests annually.
The Dallas Police Department was organized into five bureaus, each commanded by an appointed Assistant Chief of Police. The department was further sub-divided into twenty-six major divisions. The Chief of Police was responsible for appointing command staff officers to fill the Bureau and Division Commander positions. Command staff officers served at the pleasure of the Chief of Police while they continued to maintain their permanent civil service rank achieved through the promotional process. Police Captain was the highest Civil Service rank in the Dallas Police Department.  The official rank of Police Captain and the appointed rank of Division Commander was later discontinued and reclassified to the title of Deputy Chief of Police.
The yearly budget of the Dallas Police Department exceeded 136 million dollars. The Chief of Police apportioned the overall budget allocations each year to the various Division Commanders for functional administration.
Division Commanders were responsible for all law enforcement operations within their designated geographic areas and were responsible for all aspects of support functions within their designated sphere of accountability. These responsibilities include enforcement of all state and federal laws and city ordinances, investigation of all crimes, budgetary preparation and monitoring, personnel actions, allocation of resources, scheduling and assignments, on-site command decisions and other related functions.
Copyright (C) 2012-2022 by the Chief Rick Stone & Family Charitable Foundation. All Rights Reserved.